Logbook Features
Logbook lets you keep a record of all your professional activities that you've conducted, such as Emergency cases, OPD consultations, Procedures, Surgeries, Academic activities, Publications, etc.
Individual logbook for each category
Create different subcategories of logbooks depending on your choice.
Insights of each case
Add additional insights, history, diagnosis, treatment plan and special remarks in each case.
Download in a WORD and PDF
Get a Print-ready logbook whenever you need. You can download your logs in a WORD and PDF format.
Get your data in a structured manner
Logbook will segregate the mixed data and will provide a statistical analysis of your activities individually.
Free to use
Logbook is a free to use tool and there are no charges associated with it.
Timely Reminders
A regular notification according to your ease/ daily/ weekly/ fortnightly, to remind you to fill in your logs before you forget it.

Simplifies academic tenure
Logbook helps you to simplify your academic period by helping you to create a log report of your activities during your internship period.

Analytics Report to strengthen your CV
The analytics report can be attached to make your CV stand out. You can get a print and authorize it by the Head of the Department.

Keep a record of your professional achievements
Maintain a record of your professional achievements and accomplishments.
Segregate your data category wise
Segregate your data as per your wish, to get a category-wise or timeline-wise breakdown.
Logbook is for

Doctors
Why Healthcare professionals should use a digital logbook?
Using a logbook is as easy as listening to heartbeats with a stethoscope on!
It's easy & effortless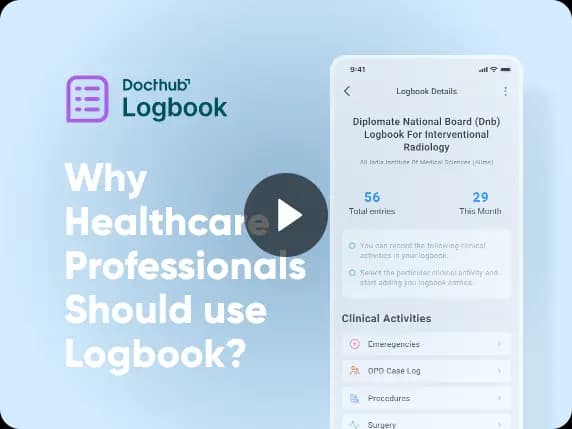 About
Logbook is a virtual activity tracker designed specifically for healthcare professionals; it helps you to keep track of your daily medical activity so you can access and showcase your professional work analytics in a statistical format.